About
Royan institute for Stem Cell Biology and Technology first made its appearance in the Royan Institute when generation of first mouse and human embryonic stem cells was reported by Royan in 2003 and Royan became interested in extending this field from generation of science to application of science. Initially this group was part of the Department of Embryology at Royan institute for Reproductive medicine. The Department of Stem Cells and Developmental Biology was then created in the end of 2003 to work on stem cells and differentiation in culture. By expanding of researches and establishing of other departments, Royan institute for Stem Cell Biology and Technology was established to recognize the advent of Tomorrow's medicine research in the context of stem cells and developmental biology, regenerative medicine, personalized medicine, cancer medicine, biomedical engineering, and the brain and cognitive sciences.
The institute is committed to cross-disciplinary partnerships and collaborations by biology, engineering, and medical academics to improve health by providing a comprehensive and coordinated "bench to bedside" approach.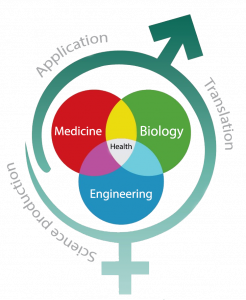 Currently, the institute includes four departments:
• Departments of Stem cells and Developmental Biology
• Departments of Cell Engineering
• Departments of Regenerative Medicine
• Departments of Brain and Cognitive Sciences
Moreover, there are three initiatives that principal investigators were collaborating to perform more research in Cancer Medicine, Advanced Therapy Medicinal Products, and Biodiscovery.
Both basic research and clinical Departments, providing significant opportunities for translational research. Regular term-time seminar series facilitate interactions between research groups. In addition, annual international congress on stem cell biology and technology are held each year many scientists from our institute, Iran and abroad to facilitate networking between groups.
Students in this institute are presented with a unique opportunity for integrative work across a variety of perspectives.
Our efforts are not limited to advance and utilize laboratories across 4 different departments of the Royan institute for Stem Cell Biology and Technology, but are being coordinated across all labs in Royan institute and national and international collaborations.